As we have seen, for our dental clinic, we will need a Class B autoclave that allows us to sterilize instruments such as turbines or bagged contra-angles 1:5 multiplier. However, when choosing one or the other model, we must take into account the following points: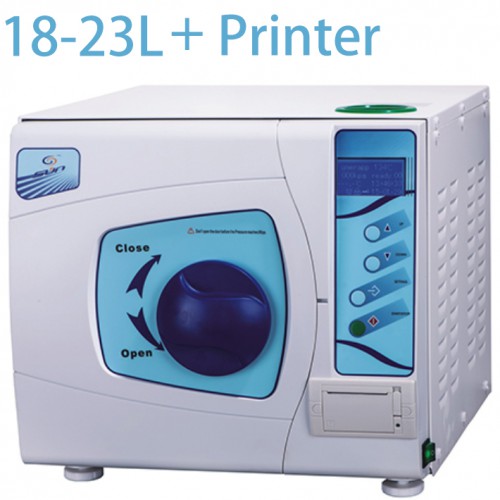 Capacity of the autoclave: Class B autoclaves are manufactured with different capacities, ranging from 8 liters to 24 liters. The more capacity the autoclave has, the more instruments we can sterilize in each cycle, but the more energy it spends in each sterilization cycle. The price of the autoclave will also be proportional to its capacity. Therefore, we must adjust the autoclave's capacity to our needs, as it makes no sense to purchase an autoclave of much greater capacity than we really need. This will save us money on the purchase and daily use. In addition, it is often more convenient to have two autoclaves smaller than a larger, because in this way we can perform two simultaneous sterilization cycles.

Duration of the sterilization cycle: It is always practical to look at how long it takes for each autoclave to perform a complete sterilization cycle. There are quick-cycle autoclaves, which saves time in autoclaving processes, although the price is usually a bit higher.

Warranty and Technical Service: Another important point to consider when choosing a dental autoclave is warranty and technical service. The vast majority of autoclaves have a warranty of one to two years, and if the autoclave brand does not have its own technical service, the most appropriate thing will be to look for a trustworthy multibrand technical service that can repair it. if one day we need it. Another benefit of having two autoclaves in the dental clinic will be that we will always have an autoclave available if we have to repair one of the two
Autoclave Price: The price of the autoclave will normally be closely related to its reliability and characteristics. European or American brands usually offer high quality autoclaves, while Chinese or Korean brands offer economical autoclaves of a quality that may be sufficient for a small dental clinic. The main disadvantage of these "cheap dental autoclaves" is that the technical service and after-sales service will surely be less advantageous and more complicated
Accessories: Class B autoclaves can incorporate accessories that will be very useful in some cases. For example, there are autoclaves with printers, which will facilitate the traceability of sterilized products.
What should take into consideration when choosing a dental autoclave?